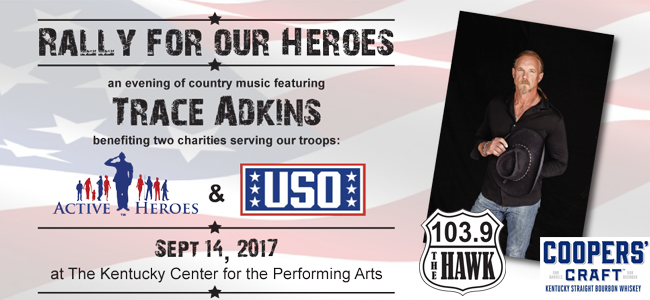 Rally Point: Kentuckiana, 103.9 The Hawk, and Coopers' Craft Bourbon present "Rally for our Heroes" – a night to honor veteran's here in Kentuckiana. The event will include inspirational messages, comedy AND a special performance for veteran advocate, Trace Adkins!!
September 14th at Kentucky Center for the Performing Arts. 
Funds raised benefit two military-related charities: Active Heroes and USO- Ft. Campbell/Nashville Chapter.
The evening will start with a cocktail reception hosted by Coopers' Craft Bourbon and silent auction at 6:30 PM, and the show will begin at 7:30 PM.
Tickets start at $33 and Meet & Greet tickets are $123.00.
Get your tickets HERE!
Share and Enjoy